Fintech Highlights - 5/16/2023
We were out last week. So this edition is jam packed.  Hold on and dig in 👇
Pinned to the Top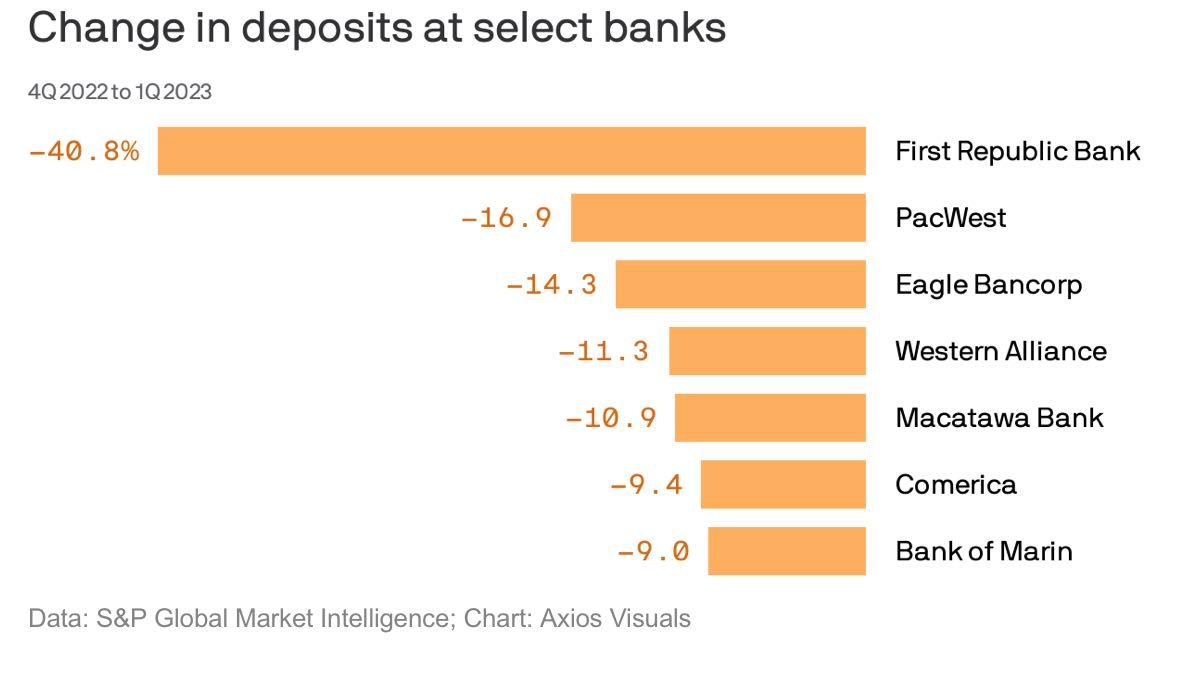 More than two dozen publicly traded banks lost at least 5% of their deposits in the first three months of the year, according to S&P Global Market Intelligence data released today.
The big picture: The regional banking turmoil — which led to last week's failure of First Republic and its takeover by JPMorgan Chase — has not triggered a crisis for the broader banking sector, Nathan writes.
Overall, publicly traded banks recorded a 0.1% median increase in deposits, which S&P concluded was "a sign that many institutions navigated the environment relatively well."
Context: Several on the list above began to stem outflows following the worst of the March panic. For example, PacWest in its first-quarter results noted that deposits increased $700 million in the first 24 days of April, while Western Alliance reported a $2 billion increase over April's first two weeks.
The BFD
Apple's recently launched high yield savings account reportedly attracted around $990 million in deposits within its first four days.
The savings account – launched in partnership with Goldman Sachs and offering an industry beating interest rate –  had approximately 240,000 accounts opened by the end of its first week.
Why this is the BFD: This rapid increase in customers has been put down to that juicy interest rate hook (a 4.15% annual return while many US banks are still only offering half a percentage point) and the prevalence of iPhones in the US market (an estimated 120 million users).
It's an eye-catching result for the partnership and one sure to have Goldman Sachs' CEO David Solomon putting together a celebratory DJ set – Bitesized welcomes suggestions from readers on a setlist!
So…how much is $1 billion in deposits, really? According to figures from the Federal Reserve, the value of deposits across all commercial banks in the US is $17.1 trillion – with JP Morgan Chase accounting for $2.38 trillion of that as of the end of 2022.
Apple hasn't launched itself into the US banking stratosphere just yet, but that's not really a fair comparison. The 'Big Tech' launched its savings account in April 2023, while JP Morgan Chase has been doing this since 1799.
However, the true power of deposits in the bank may not be what they once were. Prior to its catastrophic bank run, Silicon Valley Bank had $189.2 billion in deposits, as its startup customers enjoyed a pandemic boom. How quickly things can change!
The big picture: Perhaps it's not the deposits in the accounts that Apple will be focussing on (although nice to brag about) - but the customers heading deeper into Apple's walled garden of hardware, software, and financial services products.
M&A
Citigroup is in advanced talks to sell a 90% stake in its Mexican retail banking business (Banamex) for around $7b to Groupo Mexico, per Reuters. More here ->
Prosus is exploring a sale of non-India businesses of its fintech subsidiary PayU, Bloomberg.  More here ->
Fintech
8fig, an Austin TX based fintech platform who provides small- to medium-sized e-commerce businesses with financial tools to help them achieve sustainable growth, raised a $140M Series B round. Thecompany offers a free planning tool to map out the exact capital neededto scale across the entire supplychain. More here ->
Inbanx, an Austin TX based digital payments platform, raised a $3.6M seed round. The company is a modern payment platform that helps automate and monetize payables for banks, businesses, and non-profit organizations.It also helps companies better control expenses by providing real-time expense reporting. More here ->
Earnix, the global provider of intelligent, composable, SaaS solutions for insurers and banks, has announced the opening of its new office in Texas. More here ->
Zip, an SF-based B2B procurement fintech, raised $100m in Series C funding at a $1.5b valuation.   More here ->
Bend is taking on Brex and Ramp with a green twist and a $2.5M seed round. Like many other credit cards, Bend offers rewards, though not the usual cash back or points-based fare. Instead, it offers carbon offsets. More here ->
Liquidity Group, a New York-based provider of large debt facilities and equity deployment solutions, raised $40m. It provides funding with a wide range of business models and its proprietary technology provides lightning fast due diligence and term sheets.  More here ->
Petal, an Atlanta-based consumer credit card startup, raised $35m and will spin off its B2B data analytics unit into a standalone entity. More here ->
Slash, an online banking platform aimed at solo entrepreneurs, raised $19m in seed and Series A funding. Slash is an online banking platform that provides two bank accounts, two debit cards, and two transaction feeds to help keep personal and business expenses separate. More here ->
OpenEnvoy, an Oakland, Calif.-based AP automation startup, raised $15m in Series A funding.  OpenEnvoy is a software solution toAccounts Payable's biggestchallenge that provides real-time APautomation technology to identifydiscrepancies between invoices,contracts, and supportingdocumentation faster than any othersolution in the market. More here ->
Setscale, a Miami-based purchase order financing fintech, raised $9.5m in seed funding. Setscale is a fintech startup that provides a flexible alternative to help small businesses fund their purchase orders and fulfill existing and forward demand through an underwriting model, allowing them to focus on product and sales and scale their business.  More here ->
Kiddie Kredit, a mobile app designed to help children learn about the credit system by completing chores and tracking their progress - has raised a round.  It provides access to assessments, educational tools and in-house resources to build credit knowledge.The app rewards kids with both monetary and non-monetary prizes for completing chores.It is designed to empower families with life skills for money management for generations to come. More here ->
Liquido, a payments infrastructure startup focused on Latin America, raised $26m. The company has already processed more than $300 million in payments through a closed beta with several top consumer brands, utilising a unified and integrated API for merchants to accept and process all forms of payment - from credit and debit cards to bank transfers to digital wallets, and even cash. More here ->
Firmbase, an Israeli financial planning and analysis platform, raised $12m. Firmbase is developing a financial planning and analysis platform designed specifically for finance teams and SaaS businesses. More here ->
Green-Got, a French neobank, raised €5m. .  More here ->
Cable, a London-based financial risk control startup, raised $11m. Itprovides automated assurance and risk assessment, complementary to many of the financial crime vendors. It enables banks and fintechs to monitor all of their accounts — not just a fraction as before — to know, in real time, if they are compliant with regulations and if their failure controls are working as expected to combat breaches. More here ->
M-KOPA, a Kenyan asset financing platform for the underbanked, raised $55m in equity funding led by Sumitomo Corp. The company also secured over $200m in debt. More here ->
Investtech
Smart, a London-based pension monitoring and management startup, raised $95m in Series E funding. Aquiline Capital Partners led, and was joined by Barclays, Chrysalis Investments, Fidelity International Strategic Ventures, DWS, and Natixis Investment Managers.  More here ->
Crypto
Blockworks, a crypto-focused media company, raised $12m at a $135m post-money valuation.  More here ->
Worldcoin, a crypto project led by OpenAI CEO Sam Altman, is in advanced talks to raise another $100m. More here ->
ArtifactLabs, an NFT spinoff from Hong Kong newspaper publisher SCMP, raised $3.25m. Artifact Labs is accelerating the development of decentralised applications that bring historical assets onto the blockchain and help connect collectors and communities around the world. More here ->
Insuretech
Marble, a digital wallet that rewards customers for managing their insurance policies. It acts as a one-stop hub for customers to manage their insurance details and payments.It also offers rewards of up to 5% for premium payments, helping customers save money. More here ->
Novidea, a leading global provider of cloud-based technology for the insurance industry, offering agency management and corporate solutions - has raised a $50M Series C round.  It provides an insurance software solution that turns data into insights that can be acted upon, and digitalises the entire insurance distribution lifecycle from quotes and upselling to accounting and claims. More here ->
Proptech
PermitFlow, a San Jose, Calif.-based construction permitting automation startup, raised $5.5m in seed funding led by Initialized Capital.  More here ->
Avenue One, a New York-based provider of real estate management platform for institutions, raised $100m. WestCap led, and was joined by MetLife Investment Management.  More here ->
From the Stash
Bank of America deploys AI assistant Erica internally - Bank of America has deployed its AI assistant Erica internally, freeing up resources by saving employees thousands of hours spent previously on remedial tasks.  Erica, which launched in 2018, has been assisting the $3.1 trillion bank's team with automating data input, conducting research and analytics, and coding, Bank of America Chief Executive Brian Moynihan said More here ->
PayPal looks to AI to drive efficiencies - PayPal focused on operational efficiencies in the first quarter as AI presented opportunities for the company to save money and improve workflows. During the quarter, PayPal reduced its technology and development spend 12% year over year to $721 million, driven by an increased focus on cost control, according to the earnings presentation. More here ->
Wells Fargo Auto sees AI opportunity — Wells Fargo Auto is looking to the bank's enterprise-level AI for potential applications. "For the auto business, we have the benefit of being able to leverage those tools that are being developed at the enterprise level," Head of Wells Fargo Auto Tanya Sanders said. More here ->
First Citizens to capitalize on SVB tech - First Citizens Bank today announced plans to up its tech focus by leveraging capabilities acquired from its March purchase of the failed Silicon Valley Bank.    The $214 billion First Citizens Bank (FCB) will integrate Silicon Valley Bank's (SVB) technology with its own processes, with further integration plans to be detailed later. More here ->
FDIC proposes big banks pay to recover losses in SVB and Signature failures - More here ->
Mastercard touts security of new account-opening solution - Mastercard has launched an enhancement to its Open Banking Account Opening solution to make it more secure as clients increasingly go digital. Digital account opening and transaction volumes are expected to reach $15 trillion by 2027, according to data from Statista, and Mastercard's solution allows banks and fintechs to monitor digital fraud using account data. More here ->
PNC rebuilding tech stack to add flexibility - PNC is rebuilding its technology stack to be more modern and flexible, Michael Degnan, head of enterprise innovation at PNC, said Wednesday at Fintech Nexus in New York.   The $557 billion bank has nearly completed upscaling its tech to enable more agile decisions — especially when quick pivots are necessary, he said.  More here ->
Reports & Webinars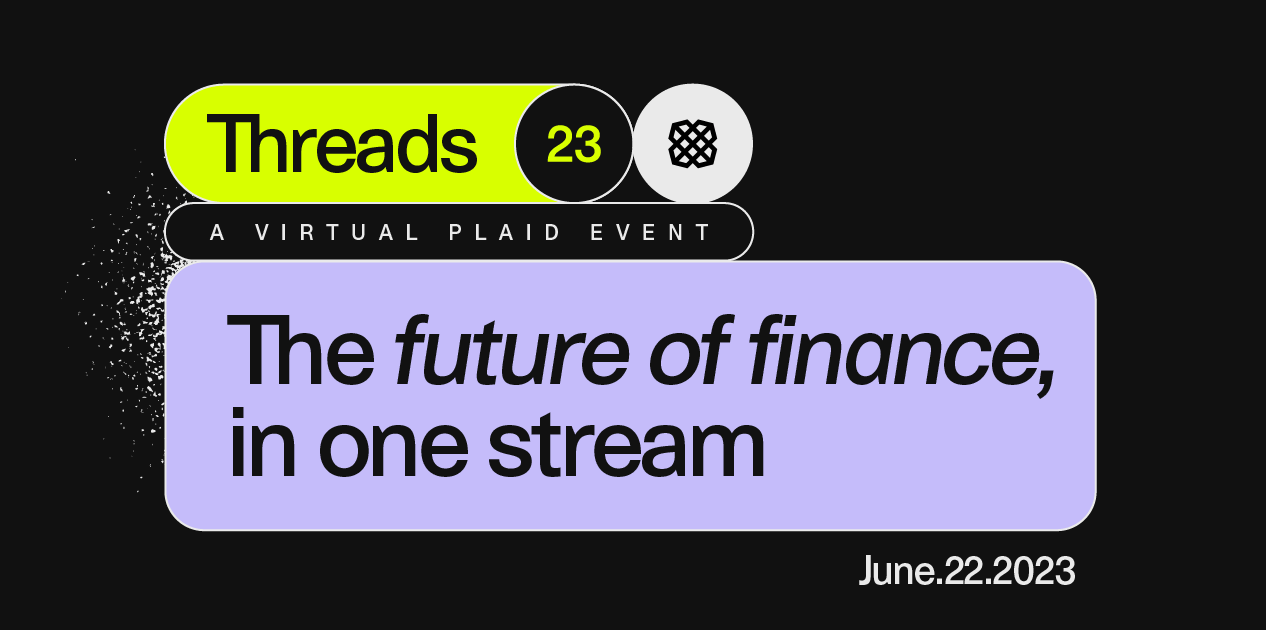 Join Plaid virtually for Threads 2023 on June 22 at 9 AM PT, and get access to the latest products and cutting-edge updates designed to help you build the future of finance.

Get Registered ->
Webinar: How Will ChatGPT Change Insurance?
Sign up for our latest webinar on May 17th, to discuss the power of Generative AI and ChatGPT in the insurance industry, featuring thought leaders from Alchemy, Nassau Financial Group and Instabase.