Fintech Highlights - 4/11/2023
Home insurance rates are skyrocketing. Tech employees are finding options for secondary's.  Acorns grabs GoHenry. Here's what we're watching this week 👇
---
Pinned to the Top
Home insurance rates are heading upward, according to a new report from Insurify.
The average U.S. homeowner is projected to pay $2,825 for home insurance in 2023, up 30% in two years
State of play: Inflation is driving up the cost of building materials and construction labor, making homes more expensive to fix or replace when they sustain damages.
And insurers say that more frequent severe weather due to climate change is also driving up rates.
Also factoring in:
More frequent water damage due to washing machines being more likely to be placed on an upstairs floor.
Fire damage is becoming costlier as "newer homes and furniture burn faster and hotter because they use more pressed wood and epoxies instead of solid hardware."
The BFD
Tech unicorns are finally adjusting to their valuation buzzcuts. The IPO window is spackled shut. Vested employees who once dreamed of Porsches are now just worried about keeping up with Prius payments.
It's the moment that Ari Stiegler has been waiting for.
Driving the news: Stiegler is co-founder and CEO of Prism, a new lending platform focused on startup employees.
Prism formed nearly a year ago, quietly raising $26 million over two venture rounds, but waited on origination until the correction seemed to have settled out. Had Prism begun lending upon founding, it might already be underwater.
"I've always hated how there's basically no liquidity in the market before an exit event," Stiegler explains. "In real estate you can refinance against underlying assets, so if you can borrow at 70% loan-to-value against a building, why not at 10% against a later-stage startup that's profitable? Particularly now that average secondary values are down and we're in a more realistic pricing environment."
Zoom out: The idea of using startup equity as loan collateral isn't new, particularly as companies began staying private longer. What's different about Prism is that it works directly with startup boards, instead of encouraging employees work around them, and doesn't take any potential equity upside.
This also means that Prism has access to a company's financials, in addition to secondary trading data.
The Los Angeles-based firm says it has several signed deals to begin originating "nine figures" of loans within the next couple of months (based on indicated demand).
Stiegler and fellow co-founder Noah Friedman declined to identify the companies with which Prism has agreed to work, or the banks with which it's partnering.
Backstory: Speaking of co-founders, Prism has a third: Ryan Breslow, best known as the outspoken founder and former CEO of Bolt Financial.
You might recall that Bolt, under Breslow's direction, offered loans to its own employees. That plan didn't work out too well.
Breslow now says that the formation of Prism "stemmed out of the experiences" he had both with Bolt, and as a founder trying to obtain personal loans.
The bottom line: For some companies, dark times are the ray of light for which they've been waiting.
M&A

Acorns, an Irvine, Calif.-based savings and investment app valued by VCs at $1.8b, acquired GoHenry, a British kid-focused financial education startup that had raised over $100m from firms like Edison Partners, Nexi, Citi Ventures and Revaia. More here ->
The FDIC launched a sale process for a $60b loan portfolio of Signature Bank, which it seized last month. More here ->
• Rathbones (LSE: RAT) agreed to buy the U.K. wealth business of Investec (LSE: INVP) for £839m in stock. More here ->
• SoFi (Nasdaq: SOFI) acquired Charlotte, N.C.-based Wyndham Capital Mortgage. More here ->
Tandem Bank, a London-based digital bank owned by Pollen Street Capital, acquired money-sharing app Loop Money. More here ->
Fintechs

Wellth, an LA-based behavioral economics and wellness company, raised $20m in Series B funding. The company helps clients "improve quality scores, reduce utilization, and improve member satisfaction by using the right incentive at the right time to motivate members to form life-changing healthy habits." More here ->
Zamp Finance, a startup that helps companies invest excess capital into U.S. T-bills, raised $21.7m in seed funding. Zamp aims to simplify the process for businesses to invest their excess capital in US Treasury bills to hedge against bank failures and other uncertainties. More here ->
Earned, a financial advisory service for physicians, raised $12m in Series A funding. The company offers solutions for medical professionals, no matter where they are in their career journey. More here ->
Playbook, a personal finance app, has snared $7m in Series A funding.  Founded in 2020, Playbook claims it is the app for growing money with tax advantages and automation. The firm said it will help users build a financial plan and take advantage of every tax benefit available.  More here ->
TipHaus, a Seattle-based tip distribution startup, raised $3.5m. Launched in 2018, TipHaus sells software to hospitality companies to help managers reduce errors related to tip distribution. More here ->
Equals Money, a UK based fintech, has launched a new expense management platform in the US.  This new platform targets film and TV production companies in the US, and it aims to provide them with simpler ways to move money and perform expense management. More here ->
Novo is conducting a pilot of a working capital program designed for small business owners. Over the last six months, the pilot program by the financial platform for small businesses has originated more than $20 million in merchant cash advances, worked with 3,000 customers and provided each with access to as much as $50,000 in flexible working capital. More here ->
Payroll data connectivity platform Pinwheel recently launched Smart Branch, to bring payroll connectivity to physical bank branches. The new tool gives banks a digital way to set up direct deposits for customers who come into their physical bank branch. More here ->
Fourthline, an Amsterdam-based provider of ID verification and compliance tools for fintechs. The company has built a set of AI-based solutions to help with identity verification, help businesses comply with anti-money laundering rules and more.   More here ->
TerraPay, a British payments infrastructure company, raised $100m in Series B funding. TerryPay is present in more than 108 receiving countries and 205 sending countries with 62 settlement currencies - it aims to expand its regulatory and compliance infrastructure including key license applications across the world. More here ->
Kashet, a London-based private banking startup, raised £5.4m. The company intends to offer a membership-based wealth management app combining a complete set of cards, foreign exchange, domestic and international payments, and access to digital currencies under Swiss law to clients in the UK, Switzerland and across Europe. More here ->
Crypto
Fire, a browser extension for prevening crypto fraud, raised $3.5m led by Atomic, per Axios Pro.  More here ->
Ecosapiens, an SF-based regenerative finance startup, raised $3.5m in seed funding led by Collab+Currency.  Ecosapiens is a Web3/NFT project enabling consumers to make a positive impact on the climate. It's marquee product is the world's first perpetual carbon-capture NFT. More here ->
LayerZero Labs, a protocol to connect decentralized apps across multiple blockchains, raised $120m in Series B funding at a $3b valuation from backers like Andreessen Horowitz, BOND, Samsung Next, Christie's, OpenSea and Sequoia Capital.  More here ->
Franklin, a provider of hybrid crypto and cash payroll services, raised $2.9m in seed funding. Franklin's payroll software is designed for small to mid-size businesses that want to be able to pay their employees in cryptocurrency. More here ->
Insuretechs
Acko, an Indian insuretech, is nearing $120 million in new funding. Acko, which counts Amazon, Lightspeed Venture Partners India and CPPIB as existing backers, is among the handful of startups attempting to take on the country's antiquated insurance industry with a digital-first product. More here ->
🚑 CarmaCare, a subscription-based car repair and maintenance service, raised $4.5m in seed funding. Aptly named, CarmaCare launched its proprietary "healthcare-for-your-car" subscription service three months ago to take over where traditional car insurance leaves off and to provide an easier way to buy extended warranties.  More here ->
Billy, a New York-based construction insurance startup, raised $2.5m. The company has two revenue models: First is a SaaS platform that collects, verifies and tracks compliance documents like business licenses and W9 forms for general contractors, developers and property managers. The second model uses the data from the SaaS platform to operate a marketplace that provides insurance solutions. More here ->
Proptech
Field Materials, a construction materials purchasing startup, raised $4.65m in seed funding. The company empowers contractors and vendors to standardize procurement, save costs, and stay on budget. More here ->
From the Stash
Has fintech lost its lustre? What VC investors need to see from founders More here ->
MoneyLion announced the evolution of its embedded finance technology - with the rebranding of "Even Financial" to "Engine by MoneyLion" More here ->
Crescent unveils up to $75 million in FDIC Protection - and 3.75% APY for US businesses in wake of Silicon Valley Bank shutdown. More here ->
SoFi checking and savings to offer access to up to $2 million in FDIC Insurance - More here ->
50% of social media users will utilize embedded payments in 2023 -
E-commerce and embedded payments continue to gain popularity as millennials and Gen Z consumers look to social media for shopping experiences — and banks must meet their customers where they are shopping online.More here ->
Grasshopper Bank secures fintech client using Treasury Prime's OneKey - Grasshopper Bank has secured a new fintech client thanks to Treasury Prime's OneKey platform, which allows fintechs greater visibility of their accounts across multiple banks.  The $606 million bank began beta testing OneKey in March 2022. The tool assisted Grasshopper in sealing the deal with its new client More here ->
Top 4 payments trends for 2023 - More here ->
Reports / Webinars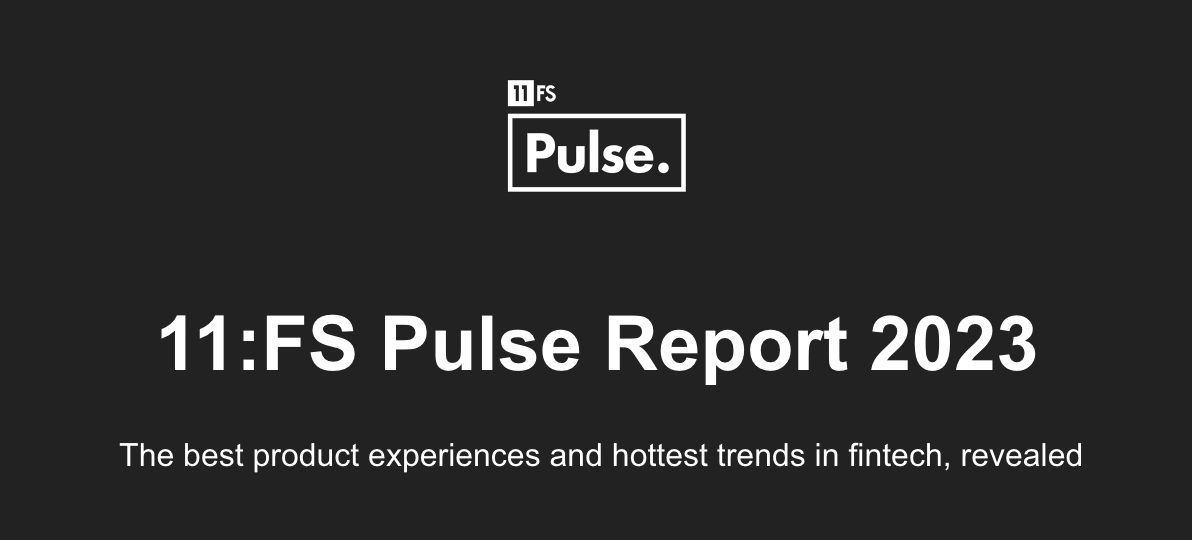 Now in its second year, 11:FS has issued their annual report that analyzes the best fintech user journeys of 2022 and which trends are set to shape financial services over the course of the year. With winning insights from industry leaders, it's the perfect read to start your year off on the right foot. Get the report ->
---
—
☑️ Thanks for reading. Please ask your friends, colleagues and others to sign up.  Use the above.
If you have any companies or news to share - use the form
AND - if we're not already connected - let's do it.